By NEETA KOLHATKAR / Rediff
Potlis in prison?
Creativity, says Sudha Bharadwaj, is a vital lifeline for those who find their freedom taken away for crimes they may, or may not, have committed.
Arrested in 2018 in the *Bhima Koregaon case, Chhattisgarh-based Bharadwaj — a trade union leader, activist and lawyer — was released on December 9, 2021, on conditional bail that restricts her movements to Mumbai.
Survival as a prisoner during the last three years has been difficult, both emotionally and physically, but her brilliant smile makes light of it.
There were times however, she tells Rediff.com Senior Contributor Neeta Kolhatkar, when she too felt devastated.
The third of an exclusive four-part interview:
What did you like doing most in jail?
Just watching women cope was such a relief.
They would drawnrangolis and mehendi, do needlework… some would cut their maxis and convert them into beautiful tops or make earrings out of almost nothing. The creativity must be seen to be believed.
Unfortunately, the jail authorities don't help with this part. All this has to be done despite the jail authorities and not with their help.
In fact, you are not allowed to have a needle and thread. Now, how do you expect women not to have this? Someone, somewhere, has kept it secretly and you borrow it from them. How do you mend your clothes otherwise?
One gets to see all kinds of fashionable designs in prison. I will show you a little potli (pouch) I have stitched out of an old maxi (goes and brings it). And this little pouch was made by a Finnish inmate. She plea bargained, completed her two-year sentence and is back in Finland now.
She was a pianist. This was her parting gift for me.
It's moments like these that keeps one alive.
The authorities must surely have shared in these creative ventures.
Oh yes.
Some of these women are so talented that, often, police constables would come at night to the barracks, push their hands through the bars and get their mehendi done, especially during festivals and special occasions.
There are hairstylists and parlour ladies in prison. One can even get one's eyebrows threaded. Some give massages. There are so many free services available (laughs).
Did you ever expect you would meet Professor Shoma Sen in prison?
Shomaji (a co-accused in the same case, Professor Shoma Sen used to head the English department at Nagpur University and is a women's rights activist) and I had met at a few meetings, but we were not friends; we didn't know each other that well prior to our term in jail.
She is a remarkable person. I don't know how we would have survived without each other, particularly during the one-and-a-half years we spent in Yerwada jail.
When you make a friend in jail, there are no formalities; one just gets to the point straightaway. We shared every detail about our families and our ups and downs in life.
Until we spoke with each other at night, or until the next time we saw each other properly, we would be really worried for the other.
I remember how, on one occasion, she experienced dizziness. She was blacking out and needed to hold onto the wall of her cell for support.
There was a hole between our cells and I kept shouting out to her. It was only when she said she was feeling better that I felt reassured.
She has a blood pressure problem. Later, she told me she felt as if the wall was falling down and she had to balance herself.
Then, there was a time when I was unwell. When I was better, I was brought back from the hospital cell — they shift you at the time of closing; they tell you to get inside, literally push you in and clank the door shut.
After I settled in, I could hear Shomadi asking if I had eaten my dinner. When I said no, she requested the woman constable and got me some dinner.
It's little things like these — sharing medicines, consoling each other after a mulaqat (meeting) or a tearful phone conversation with your loved ones or when we would return, dejected, when our bails were rejected — that made our time in jail bearable. I hope she is well and gets bail soon.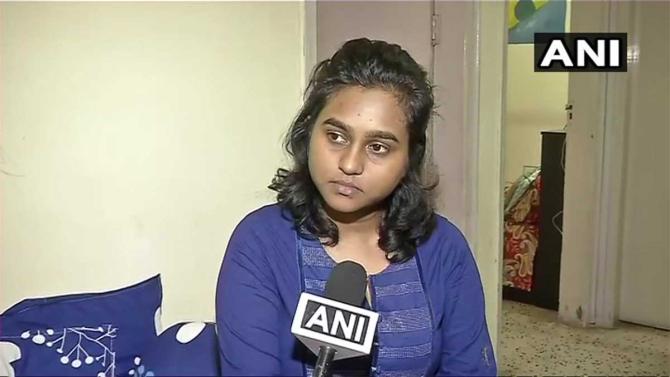 You've said that, because of your work, you've not spent enough time with your daughter. But did you, at any time, imagine you would not have the liberty to meet her when you wished?
Never.
The greatest irony in my life is that I had shifted to Delhi to spend time with her, to make up for all those years when I could not give her all my attention.
My life in Chhattisgarh began in 1986. She was born in 1996. While we were together, I also had to share my time with thousands of other people. I was part of a trade union. I was an activist. Then, I became a lawyer and had a busy career. I could not give her all my attention and she has good reason to be annoyed with me.
In 2016-2017, I took the conscious decision to spend time with my daughter. She was entering college and needed my help.
For the first time in my life, I wanted to earn money because I need to fund her college education. So I took up an assignment with the National Law University in Delhi.
In 2017-2018, I taught and had even got an extension for the next term when I was arrested. Just when I thought I could give time to my child, it was snatched away from both of us for three years by the State.
Theoretically, we are allowed one mulaqat a week. This rule is strictly applied for people like us who are arrested under the Unlawful Activities (Prevention) Act. We are only allowed to meet blood relatives and lawyers; the latter are allowed to meet you twice a week. No friends are allowed.
My daughter lives far away and could only visit once in three months. So, in the three years, I have had only four to five mulaqats with her.
She would make a huge effort and do everything she could to meet me on her birthday. This was very special for her but, as a mother, I feel bad that she had to go through so much.
The last time, in fact, I had told her not to come, but Shomaji was convinced she would make it. She came on Friday, so that she could meet me on Saturday and Monday; this would cover her meeting for two weeks.
I later came to know she had spent the whole of Saturday, which was her birthday, running from pillar to post, trying to get permission to meet me. She was first told she had to get permission from the NIA, then she was asked to go elsewhere.
Finally, she could only meet me on Monday.
I felt terrible. My child had come all the way from Chhattisgarh to meet me and they created problems. It was ridiculous! They let her meet me in Yerwada, so how was it any different in Byculla?
They know she is my only family. They know she comes only once in three months. It was tough. But that is jail for you in India.
Others have faced worse problems.
I'm lucky I am separated from my husband so I don't have to meet him. Now look at Shomadi. Her name is Shoma Sen and her husband's name is Tushar Bhattacharya.
Do you know that if husbands and wives have different surnames, they are put through a harrowing time?
You have to spend time and energy proving you are a couple because you have different surnames. You have to prove your daughter is your daughter if you have different last names.
The procedure is extremely complicated. Then, you have to get a police verification done. And every time the mulaqats restart after a gap, a reverification process takes place.
The length of the mulaqats is another issue. Actually, it depends on how nice the police constables on both sides are.
I was allowed to meet my daughter for 20 minutes because she could not visit every month; otherwise, they allow prisoners and their families to meet for 10-15 minutes only.
They are really strict about the telephone calls; after 10 minutes, they cut you off irrespective of whether you are midway through a word or sentence.
If you have permission for an audio call, you cannot make a video call. Also, video calls are not allowed each time.
There is a lot of police verification each time. Sometimes, the verification of the telephone numbers is a hugely complicated process.
You don't have the freedom in jail to speak to your blood relative on any new or unverified number. So, a woman inmate cannot speak to her son-in-law and her daughter on her son-in-law's cellphone since that is not a registered number.
One has to write so many applications for verification. These are sent to the original police stations, which may take their own sweet time to complete the verification.
Telephone calls are an enormous source of relief for people as they come to know what is going on with their families outside.
So many would return crying after hearing that a relative was ill or someone had died.
Shomaji learnt through phone calls that her mother-in-law and, later, her husband's nephew had passed away. Many of us lost friends. It is really sad to be told over a telephone call that someone you love has passed on.
This article first appeared in rediff.com